WIDU.africa introduces two ways to mitigate the effects of the Corona crisis:
Protecting livelihoods: Start a WIDU.africa project and support small and new businesses of families and friends in participating African countries. The entrepreneur will receive an extra grant of 250 € for each funded project.
Corona Business Grant: Start a Corona project and support existing companies. The entrepreneur can receive a grant of up to 2,500 € - no private investment required
Register here and select the appropriate programme.
WIDU.africa programmes to support entrepreneurs in participating African countries
WIDU.africa aims to improve the conditions for small businesses and start-ups in participating African countries together with the diaspora in Germany. During the Corona crisis, WIDU.africa aims to help our participating entrepreneurs and specifically support those who contribute to overcoming this crisis with their business activities. Therefore, the WIDU coaching process was adapted to operate properly in times of lockdowns and disburse the grants in a timely manner. WIDU continues to work with the diaspora who recommend companies for financial support.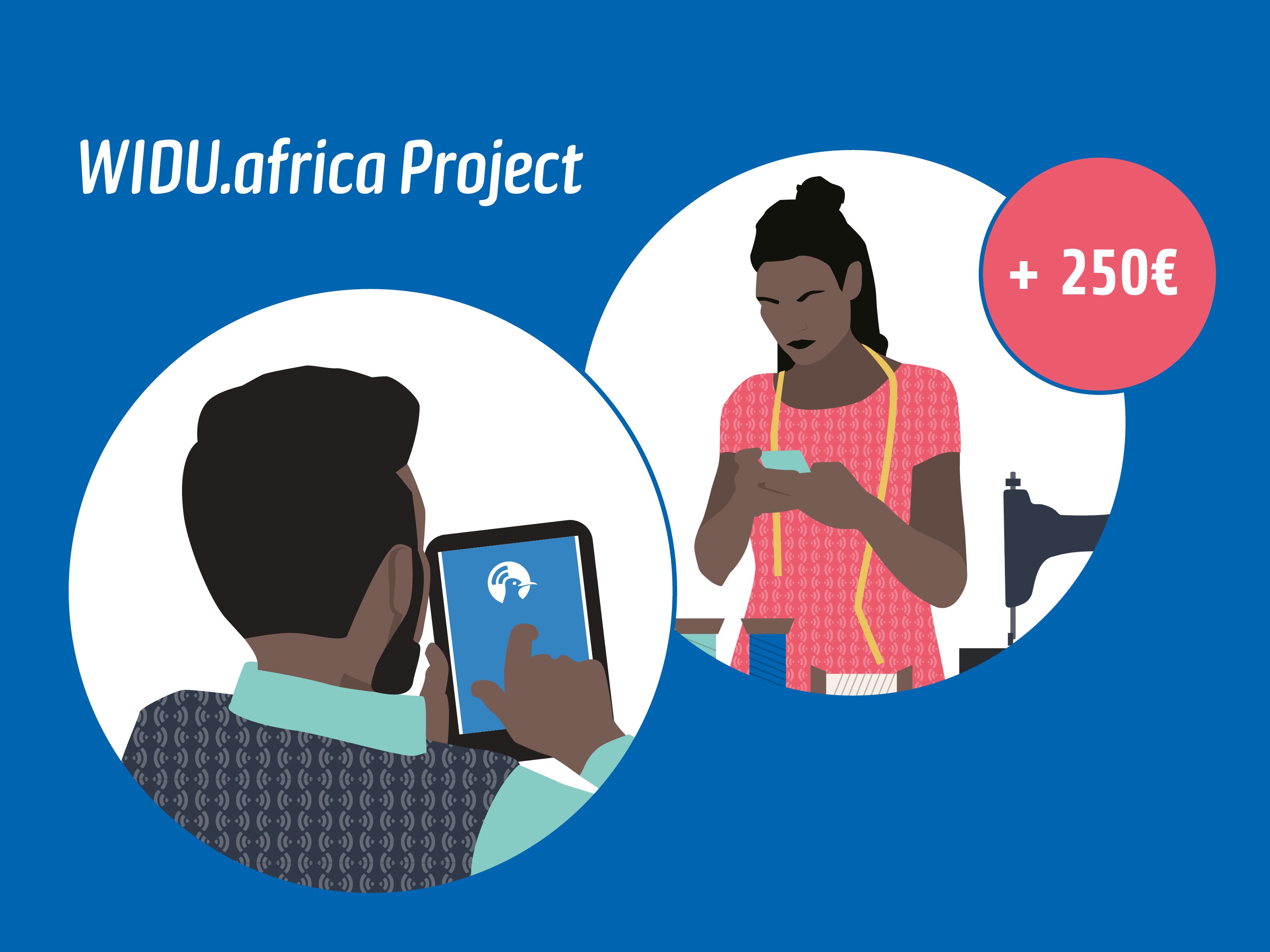 Protecting the livelihoods of small entrepreneurs in participating African countries
In times of Corona, every project supported by WIDU receives an 250 € in addition to the regular WIDU grant. This money is intended to protect the livelihood of the entrepreneurs in participating African countries during the Corona crisis and can be used by the entrepreneur to cover the extra cost of living, adjustments to business to adhere to hygiene measures and/or to cover additional temporary running business costs.
To start a WIDU.africa project, register here and start an "Original WIDU project"
Corona Business Grant: Targeted support for companies with Corona-specific solutions
Another possibility to support small businesses in participating African countries is the new Corona Business Grant. With this Programme. WIDU.africa specifically supports existing companies that contribute to the Corona response. Many entrepreneurs have good ideas but lack the financial means to implement them. WIDU provides up to 2,500 € for entrepreneurs via the Corona Business Grant and supports them to realise their ideas. The Corona Business Grant requires the recommendation of a diaspora member in Germany. No proof of private investments on the part of the diaspora or the entrepreneur is required. Do you know entrepreneurs who could benefit from the Corona Business Grant? Then register here and start the process for a "Corona Business Grant".
Businesses eligible for the Corona Business Grant
For the Corona Business Grant, we support ideas that want to extend their existing business to enable them to bring innovation and creativity to the national and community response* to the CORONA pandemic.
*National & Community Response: Measures imposed by government or local authorities aimed to prevent the spread of the virus within a country or community - like lock-downs or curfews, contact restrictions, closed borders or mandatory mask.
Resources are limited therefore, we carefully select proposals based on the level of likely impact and degree of innovation and creativity as well as the following criteria:
Actively contribute to the national or community response to Corona

The business must be a small (social) business

Priority will be given to those who have already demonstrated excellent accounting in their classic WIDU grant

The business should clearly identify how it will generate revenue

The proposal should be well described and clearly defined

Impacts and results need to be evidenced, measurable and tangible
We look forward to receiving your innovative project proposals!
Why your support is more important than ever
The Corona pandemic has far-reaching repercussions for the global economy. Especially countries that are already facing difficult economic conditions will be under pressure. For example, Ghana and Cameroon where the crisis severely affects small-scale businesses and start-ups who are unable to compensate for the financial losses of the past weeks. The survival of many companies is directly at stake together with the livelihoods of those running them.
Many expert institutions esteem that more people will suffer or even die in Africa as a result of the resultant economics impacts of Corona, than from the virus itself.
Key factor: support from the diaspora
Great potential for improving the economic conditions in participating African countries lies in cooperation with the diaspora. According to World Bank estimates, members of the African diaspora in Germany transfer € 1.2 billion annually to their countries of origin. In this particularly difficult time, the diaspora in Germany wants to financially support family members and friends in their countries of origin. WIDU.africa helps to channel existing remittances into sustainable small-businesses and start-ups and further supports the entrepreneurs by disbursing grants of the same amount as the investment of diaspora donor and entrepreneur. Small enterprises in all sectors are eligible for the WIDU grant.