Agri-Jobs 4 Youth Hackathon - Green Business Innovations for Western Kenya
In a groundbreaking showcase of collaborative effort and innovation, Agri Jobs for Youth in partnership with WIDU.africa joined forces in steering a Green Business Innovations for Western Kenya hackathon, implemented by the Association of Startup and SME Enablers of Kenya (ASSEK), held on the 14th and 15th of August in Kisumu, Kenya. This hackathon was designed to harness the power of Human-Centered Design to tackle pressing challenges and elevate budding entrepreneurs in the green agribusiness sector. Seven Kenyan WIDU beneficiaries were selected to join the six-week incubation training.
Hackathon: Participants, Thematic Areas & WIDU Beneficiaries
The event brought together 30 innovators hailing from five counties in Western Kenya. A diverse mix of youth and women were carefully selected and primed to refine their innovations, all while embracing Green Business principles to lay the groundwork for sustainable and impactful ventures. The hackathon's thematic areas encompassed Food Waste Disposal, Climate-Smart Agriculture, and Value Addition to Reduce Post-Harvest Losses – all pivotal aspects in addressing local and global challenges.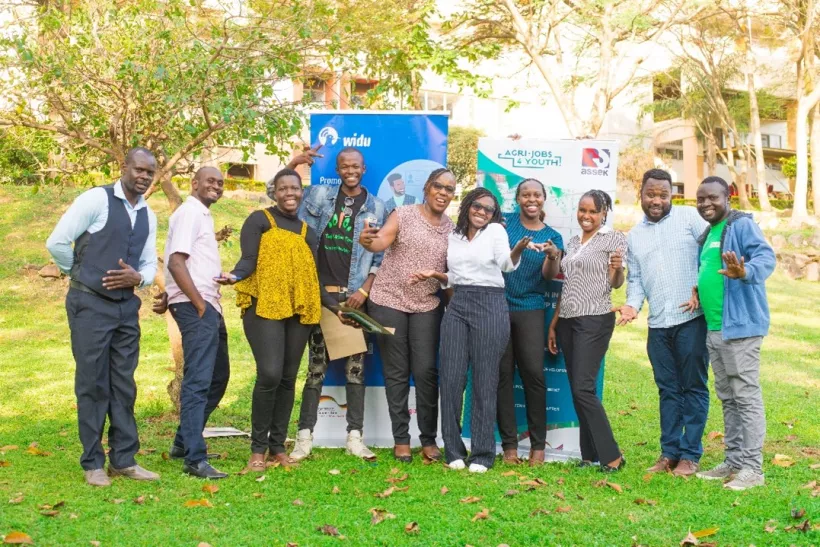 WIDU.africa had seven of its beneficiaries as active participants in the hackathon. This dynamic involvement not only highlighted the impact of the project but also showcased the potential of these beneficiaries to drive change through innovative solutions.
Promising Innovators Win Chance to Participate in Six-Week Incubation Progam
Amidst the intense competition and collaborative brainstorming, a total of 20 businesses will be selected to proceed to the next stage of business incubation. These promising innovators are on the cusp of making their mark on the entrepreneurial landscape. Ahead of the winners is a thrilling 6-week Incubation Program aimed at refining their business models and preparing them for the investor spotlight. Seven Kenyan WIDU beneficiaries were selected to join the six-week incubation training.
The subsequent Incubation Program, masterminded by ASSEK Western Kenyan ESOs (Entrepreneur Support Organizations), will play a pivotal role in nurturing and propelling the growth of these startups and SMEs. This comprehensive program offers a blend of capacity-building support, market linkages, and investor connections to equip these innovators with the tools they need to succeed.
 

Collaboration of two projects facilitates hackathon event
The collaboration between Agri Jobs for Youth and WIDU.africa not only exemplifies the power of cross-project synergy but also underscores their shared commitment to sustainable development, youth empowerment, and employment promotion. By engaging with the entrepreneurial ecosystem, these initiatives are steering the trajectory of these startups and SMEs toward unprecedented growth and impact. As we eagerly await the announcement of the winners and the subsequent unfolding of the Incubation Program, it's clear that the future is ripe with opportunities for transformative change.