Since the 8th of December 2021, WIDU has launched in Tunisia! Through its digital platform, the project aims to mobilize funding from the Tunisian diaspora in Europe in order to support entrepreneurs and small businesses in Tunisia.
Together with WIDU, Tunisians living in Austria, France, Germany, Netherlands, Norway, Sweden or Switzerland can support their friends or family in their entrepreneurial endeavors. After completing a joint investment, the entrepreneur will receive individual coaching as well as an additional grant provided by WIDU.
* We can only accept project applications that are submitted entirely in one of the following languages: English, French or German.
Upcoming Events
In this section, we publish upcoming events for the Tunisian diaspora in Europe and entrepreneurs from Tunisia.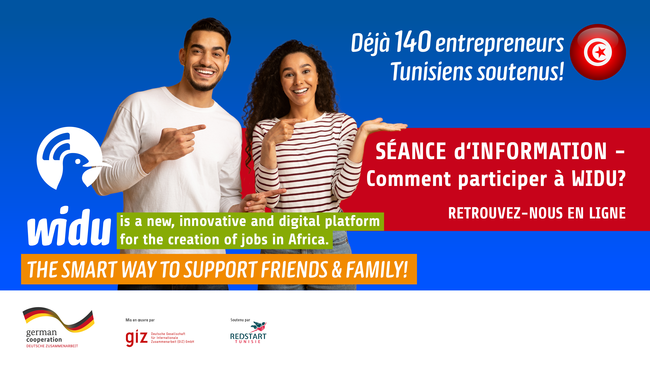 6th INFORMATION SESSION - How to participate at WIDU?
Are you part of the #diaspora in Europe and know a fellow #entrepreneur in Tunisia? Or you are an entrepreneur in #Tunisia and have friends or family in Europe to support your project?
Then @WIDU.africa is the project for you! We support pairs of diaspora and local entrepreneurs with a grant and free personalized #coaching.
With over 130 supported projects and our WIDU.africa Tunisia project in full expansion, we would like to present WIDU.africa to you in an information session.
(This event will be held in French, but you will have the opportunity to ask your questions in English, French, German or Arabic).
white