WIDU has been operating in Kenya since November 2020 and growing in strength each day. In cooperation with Kenyans living in Austria, France, Germany, Switzerland, Netherlands, Norway and Sweden, WIDU supports new and existing businesses to create employment and livelihoods. In addition to the financial grant our qualified business coaches are providing tailored business management skills to entrepreneurs from all over the country thereby positively transforming sustainable, innovative and profitable businesses.
Success in Numbers - Kenya
Local Call: #Green Kenya
New WIDU grant available: The Local Call: #Green Kenya
WIDU.africa now offers a new grant type targeting green businesses in Kenya. We are aiming to support micro and small enterprises interested in building a sustainable green future in their communities. Are you one of them? Then the "Local Call: Green Businesses" is the perfect opportunity for you!
Apply now!
Local Call: #Green Kenya
WIDU's Local Call: #Green Kenya aims at green businesses in Kenya. Find more information about application, eligibility requirements and other useful support on our Local Call: #Green Kenya Website.
green
Flyer Local Call: #Green Kenya
This leaflet provides you with general information about the Local Call: #Green Kenya. It can be downloaded and printed in the following language: English
green
More questions? Join our online info sessions!
Image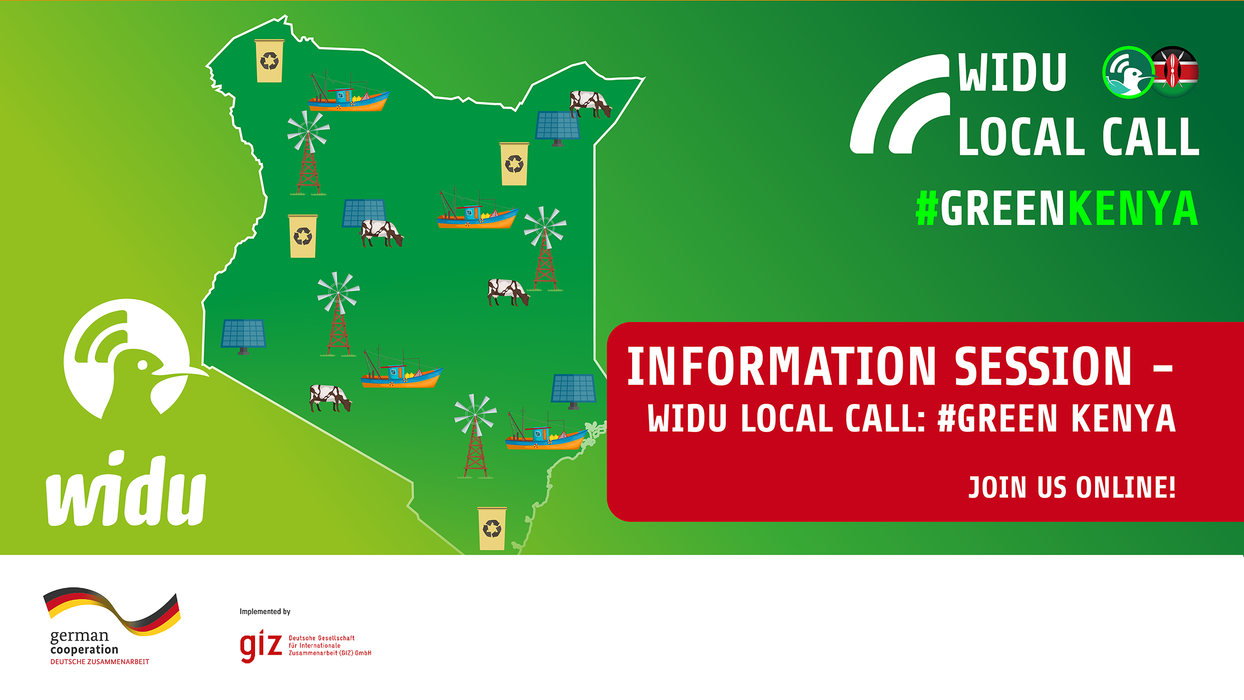 Join our weekly info session on the Local Call: #Green Kenya
The WIDU Local Call: #Green Kenya is here - our first Local Call! We are now accepting applications and supporting innovative companies with green and sustainable business models. The duration of the Local Call: #Green Kenya is limited to a certain number of participants from Kenya. Only existing businesses can register for the new WIDU funding.
To prepare your participation and for more information about the Green Call eligibility, process of application, amount of grants and targeted projects, WIDU Kenya offers weekly information session:
Join us fridays at 11am Nairobi time (UTC+03:00) // 10am Frankfurt time (UTC+02:00) 
1 July 2022: Click here to join event or follow us on Facebook for updates on upcoming events
15 July 2022
29 July 2022: Link to events will be published soon
WIDU Flyer in Kiswahili
This flyer provides you with general information about the WIDU project, the process and the funding in Kiswahili. 
purple
Quotes from Coaching Organisations
"The importance of combining financial with non-financial support is critical to developing enterprises. Working on the GIZ-WIDU project resonates with our purpose as Private Equity Support of facilitating early stage financing through the development of an investor ready pipeline within the SME segments. This de-risking is critical to crowding in more capital, even the informal friends and family pools of capital, as WIDU has successfully shown."
Diana Gichaga, Managing Partner, Private Equity Support, Kenya