Outstanding Ghanaian entrepreneurs receive WIDU Award Ghana 2023
Award ceremony for Ghanaian participants of the WIDU.africa project took place for the first time
The WIDU Award Ghana was held for the first-time on 29th June 2023. Awards were presented in five distinct categories: Agri-Business Award, Young Entrepreneur Award, Sustainability Award, Tech Award and Female Entrepreneur Award.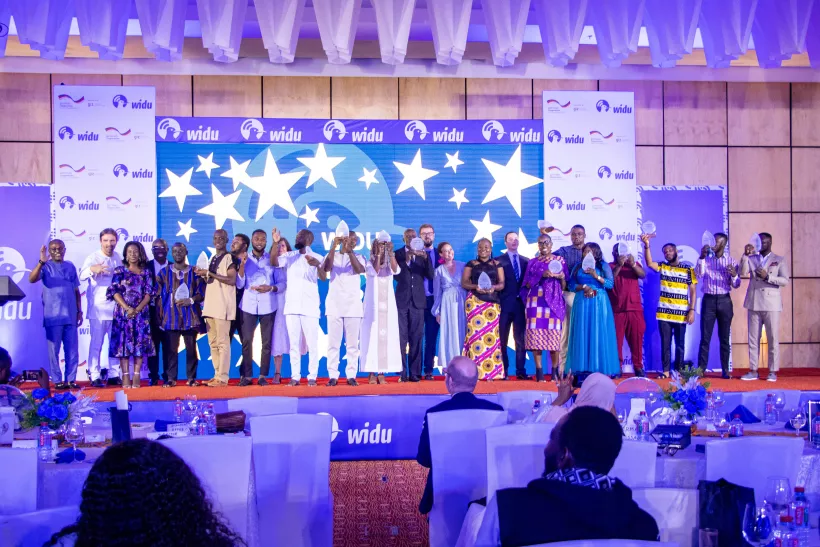 01/07/2023 – "It's a night to celebrate innovation and benevolence from the diaspora and a night to celebrate resilience and hard work from our lovely entrepreneurs", introduced moderator Bernard Avle the WIDU Award Ghana 2023. On Thursday, WIDU.africa awarded the most outstanding Ghanaian WIDU participants. In a relaxed atmosphere – "In the center of the world, Accra, Ghana" – entrepreneurs received awards and prizes for their work. Thanks to Bernard Avle entrepreneurs, their achievements and stories received their well-deserved attention.
"This event is about the hope that entrepreneurs bring to the great nation of Ghana", 
Kosi Yankey-Ayeh, CEO of Ghana Enterprises Agency
In the audience and as laudatory speakers were the German Ambassador to Ghana Daniel Krull, Kosi Yankey-Ayeh, CEO of Ghana Enterprises Agency, Cynthia Attuquayefio, Director of Diaspora Affairs Unit at the Ministry of Foreign Affairs and Regional Integrate Ghana, Ernest Justice Ampong, Director of Diaspora Affairs Office President of Ghana and Regina Bauerochse Barbosa, Country Director GIZ Ghana.
Livestream of Event: https://www.youtube.com/watch?v=mj39Uaj3H8o&t=3786s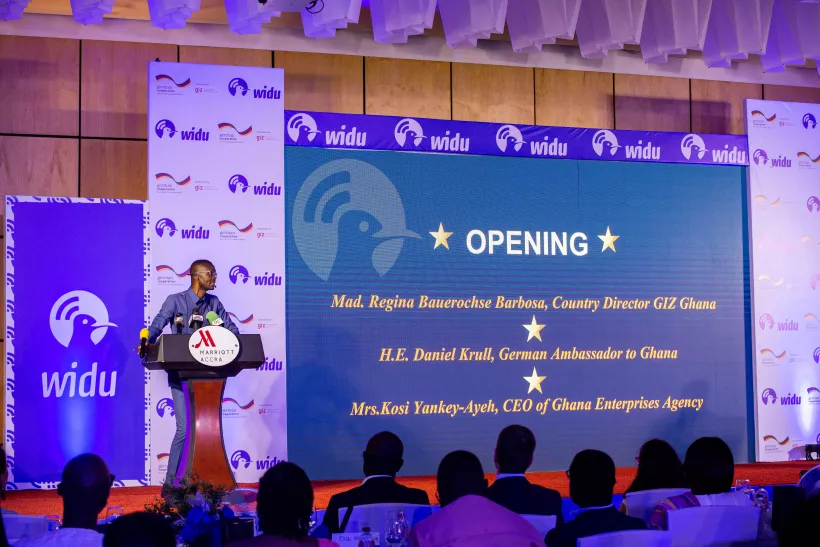 WIDU cooperates with the Ghanaian diaspora in Europe to create Jobs in Ghana
In collaboration with the African diaspora in Europe, WIDU.africa applies an innovative approach that combines funding and coaching to strengthen new and existing small businesses in Ghana and five other African countries. Since WIDU.africa launched its activities in Ghana in 2019, the project – which is implemented by Deutsche Gesellschaft für Internationale Zusammenarbeit (GIZ) GmbH and funded by the German Federal Ministry for Economic Cooperation and Development – has supported more than 4,300 SME's across Ghana. So far, entrepreneurs who have been supported by WIDU have created more than 2,000 jobs in Ghana only.
"Without your contributions, we would not have reached this significant milestone today" is how Ms Bauerochse Barbosa values the contribution of the Ghanaian diaspora in Europe: "It is through your unwavering financial and coaching support, dedication, and collaborative efforts that we have been able to accomplish so much. Your commitment to sustainable development, your innovative ideas, and your tireless work have propelled us forward on this journey."
15 Entrepreneurs won an award – get to know them!
The WIDU Awards were presented to 15 Ghanaian small enterprises in five different categories. What all winners had in common was that their business ideas were awarded due to their innovation, creation of sustainable jobs, benefits for their communities and value addition in their investments. In the selection process, all participants from Ghana since 2019 were considered. Together with a partner organisation and based on the criteria, the winners were selected. We congratulate all winners and wish them all the best for their future!
AGRI-BUSINESS AWARD 2023
Snail farming: Sustainable, profitable, job-creating – Kwasi Bame Anokye wins Agri-Business Award for his company Infinity Farms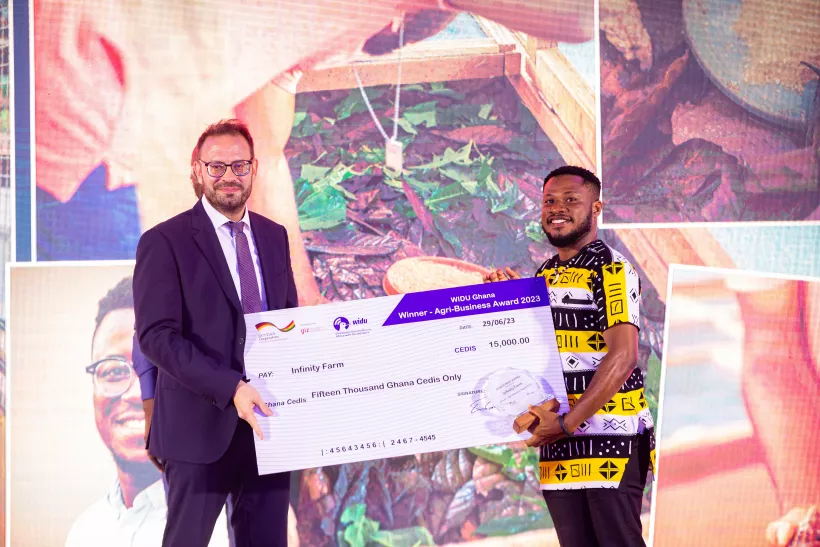 "He is a very deserving winner of the Agri-Business Award due to his dedication to green and sustainable farming, his innovative utilization of snail by-products and his commitment to empower others and this promotion of sustainable practices."

Laudatory Speaker Benjamin Woesten – GIZ Ghana
Snailfarming is a sustainable protein resource that requires minimal ressources and has a low-evironmental influence. Mr Anokye's approach of also selling by-products is impressive: snail slime, known for its cosmetic benefits is in high demand of the cosmetic industry, while the shells are valuable in industries like ceramics, paint, animal feed, construction, and paper. For these reasons, Mr Anokye won the WIDU Award Ghana 2023 – Agri-Business Award and 15,000 Ghana Cedis.
In 2021 Mr Anokye participated in WIDU.africa and received the Original WIDU Grant: "As a new business, this investment was the major instrument in setting up the farm. Without this investment, it would have been impossible for me to purchase the materials and resources needed for the first phase of the project."
Second and third runners up: BOTCHBERT FARMS & ROSH PINNAH VENTURES
YOUNG ENTREPRENEUR AWARD 2023
Nutritious and organic catfish for his community:

Owner of LUXURY FARMS Ebenezer Paul Mensah wins Young Entrepreneur Award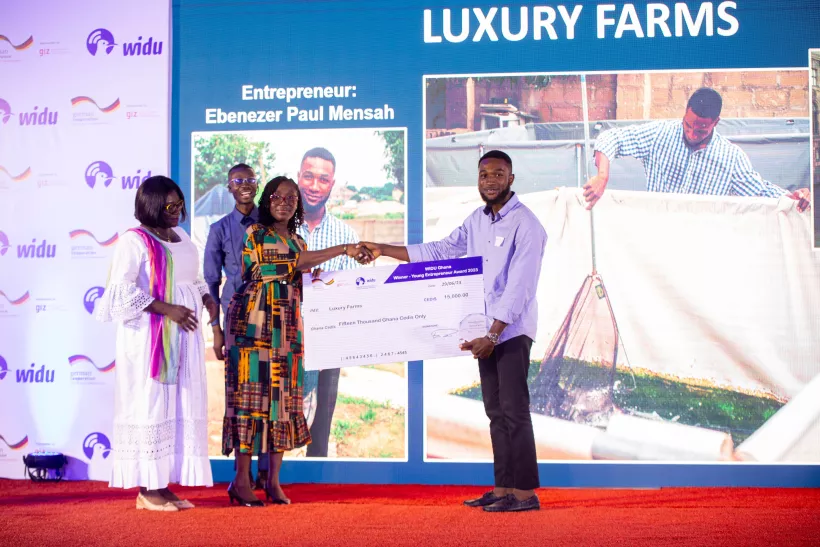 "He has made significant advances in the field of organic catfish farming – in a world where the pursuit of nutrious and organic food production has gained traction"

Kosi Yankey-Ayeh, Laudatory Speaker and CEO of Ghana Enterprises Agency
"Everytime I see GIZ and WIDU, I become very happy. Everything you can see on the photos behind me was funded by them. I am really thankful!", said Ebenezer Paul Mensah after receiving his Young Entrepreneur Award. His company Luxury Farm farms catfish and sells them by weight. His objective is to bridge the catfish shortage and create employment for the youth in his community.
In 2021 he participated in the Original WIDU Grant, together with his diaspora donor from Germany. "My investment so far has helped me construct two new ponds, ordered fresh fingerlings, secured the project and increased water supply to the ponds. This form of security will revive confidence in the business since investments are much more secured."
Second and third runners up: COOKS & CHEFS & TEDDY'S CRAVINGS
SUSTAINABILITY AWARD 2023
Producing Custom-Made Honey in Ghana: Enoch Kwalma Dzadzra wins Sustainability Award for his business ALPHA Apiaries


 
"This business has successfully translated their sustainability vision into a thriving reality – with high demand for their exceptional honey and bee wax products."
Cynthia Attuquayefio, Laudatory Speaker and Director of Diaspora Affairs Unit at the Ministry of Foreign Affairs and Regional Integration Ghana
ALPHA Apiaries is active in the production of honey for both individual and household consumptions. At the same time, it contributes to environmental conservation and biodiversity. The project also serves as a resources center where people receive bee-keeping training and other support services. Over 20 young men and women of Tsibu found a job there. On top of that, this business undertakes tree planting and cultivated over 5 acres of Teak plantation in 2010 at Tsibu community to support environmental conservation.
ALPHA Apiaries participated in the Original WIDU Grant in 2020. Mr Dzadzra says about his participation: "With the increased number of beehives employment and training of the youth and women in beekeeping has increased."
Second and third runners up: GIDDINS & HARNS SANITATION & WASTE MANAGEMENT LTD
TECH AWARD 2023
Teaching digital skills to children in rural communities – Kingsley Dzidzor wins Tech Award 2023 for Discovery Bay International School


 
"This winner of the Tech WIDU Award 2023 is a visionary leader who has dedicated himself to bridging the digitalization gap and providing opportunities for children in rural communities."

Laudatory Speaker Kathrin Daum, WIDU.africa
Driven by a deep commitment to social impact, this entrepreneur has ensured that children in his community have access to computers. Kingsley Dzidzor Afetorgor has not only empowered children with essential technological skills but has also fostered a conducive learning environment. Mr Afetorgor started an ICT and Library Complex at DISCOVERY BAY INTERNATIONAL SCHOOL. The school now has a staff strength of 16 with 3 teachers assigned to ICT & Library.  
"WIDU has helped us by giving us hope", says Mr Afetorgor, who founded the school and applied for the Original WIDU Grant in 2021, together with his diaspora donor from Germany. Through the funding, the school was able to buy equipment and setting up the ICT room in his school. Mr Afetorgor summarizes: "The objective of the ICT and Library Complex is to help the children in the rural communities especially in our District to also have quality education like the other children in the urban areas in the country."
 
Second and third runners up: DIGITAL HEALTH ACCESS & SOLIDROCK MULTIMEDIA
FEMALE ENTREPRENEUR AWARD 2023
She's a businesswoman herself and she supports other women to succeed in business, too – Ama Duncan wins the Female Entrepreneurship Award for her business THE FABULOUS WOMAN NETWORK


 
"Her dedication to the approach of women supporting each other is inspiring and should be applied everywhere"

Laudatory Speaker Regina Bauerochse Barbosa, Country Director of GIZ Ghana
"Our vision is to see an Africa, in which women in business are empowered to create wealth and impact people", this is how Ama Duncan describes the objective of her initiative THE FABULOUS WOMAN NETWORK. Ms Duncan and her team support women-led businesses through skills development, coaching and networking. They also have a co-working and event space. It is used as a business incubation space for new women in business. Thanks to her initiative, THE FABULOUS WOMAN NETWORK was able to create six new jobs and achieve a significant gender balance. She participated in the Original WIDU Grant together with her diaspora donor from Berlin.
Second and third runners up: SENAM FOODS & JANET FRIMPONG