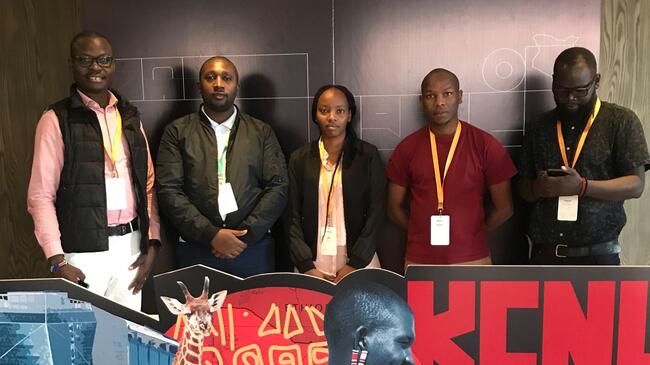 OHospital
Access to Healthcare for everyone in Kenya
Suhade Tech and Investment is a start-up specializing in IT services, software development, marketing, and business consulting. It is based in Nairobi and was founded by Daniel Kimani. As the pandemic was in full swing in 2021, Daniel Kimani saw an opportunity to grow his business on one side and support his community's access to better healthcare. A few months later, he launched "OHospital", an online platform designed to connect doctors with the underserved market. 
"My goal is to help patient's access healthcare at any time and, in return, offer doctors a way to manage their patients and improve their productivity. Patients are able to consult a doctor remotely, saving time and cost."
The project impact is, above all, social and supportive. Through "OHospital", Daniel Kimani is providing a solution to the lack of access to healthcare in rural areas, often affecting the most vulnerable people. Through its activities, the company creates new jobs by improving the working conditions of doctors, employing unemployed doctors, and creating more time for doctors to help more patients. 
Thanks to the financial and technical support he received through the WIDU project and with the support of a relative in Germany, Daniel Kimani has sustained seven jobs and created one additional job: an IT engineer focusing on the development of the OHospital platform. And the young entrepreneur doesn't intend to stop there! He is launching a Medkit to help patients with cancer, mental health, and sexual reproductive health. The Medkit will offer insurance and a saving wallet for healthcare.
In his own words, "Thanks to the private investment and the grant received by WIDU, we were able to make progress, move forward, and push our project idea to the next level. Specifically, this allowed us to secure a domain name, get a google developer account and hire our first employee. We also designed the application's interface, which is now launched and with over 4000 users." 
"The whole process of the WIDU.africa platform and the coach's accountability was very important. The coach helped us develop and improve our business. This support came at the right time." 
With the success, innovation, and social project idea he developed, Daniel Kimani won the award for the best digital project of the first edition of the Kenya WIDU awards. The event was held on December 08 in Nairobi in the presence of all the actors of the entrepreneurial ecosystem and the diaspora. Undoubtedly, he will continue to impact communities with new innovative ideas for a better world! 
 
Learn more about the plattform: https://ohospital.co.ke/ 
and follow on Facebook: https://www.facebook.com/Ohospital
Twitter: https://twitter.com/dansonkimzy
Ohospital: https://twitter.com/ohospital3
Mobile Application: https://rb.gy/v2eo1b
Daniel Kimani, owner of OHospital
"My goal is to help patients access care at any time. Patients will be able to consult a doctor remotely, saving time and cost."
Simeon, Diaspora Donor
"My passion is to facilitate technological know-how transfer and to Investing in people, especially young upcoming african entreprenoures."
8 Jobs sustained & created