"It was a lifetime opportunity"
Twelve Kenyan WIDU entrepreneurs meet Olaf Scholz to discuss policy development for small businesses in Africa
During his recent visit to Ethiopia and Kenya, Olaf Scholz met with young entrepreneurs at an event organized by the German Embassy in Nairobi. The audience also included entrepreneurs supported by the WIDU.africa project of the Deutsche Gesellschaft für Internationale Zusammenarbeit (GIZ) GmbH, who were given the opportunity to ask the German Chancellor their questions directly.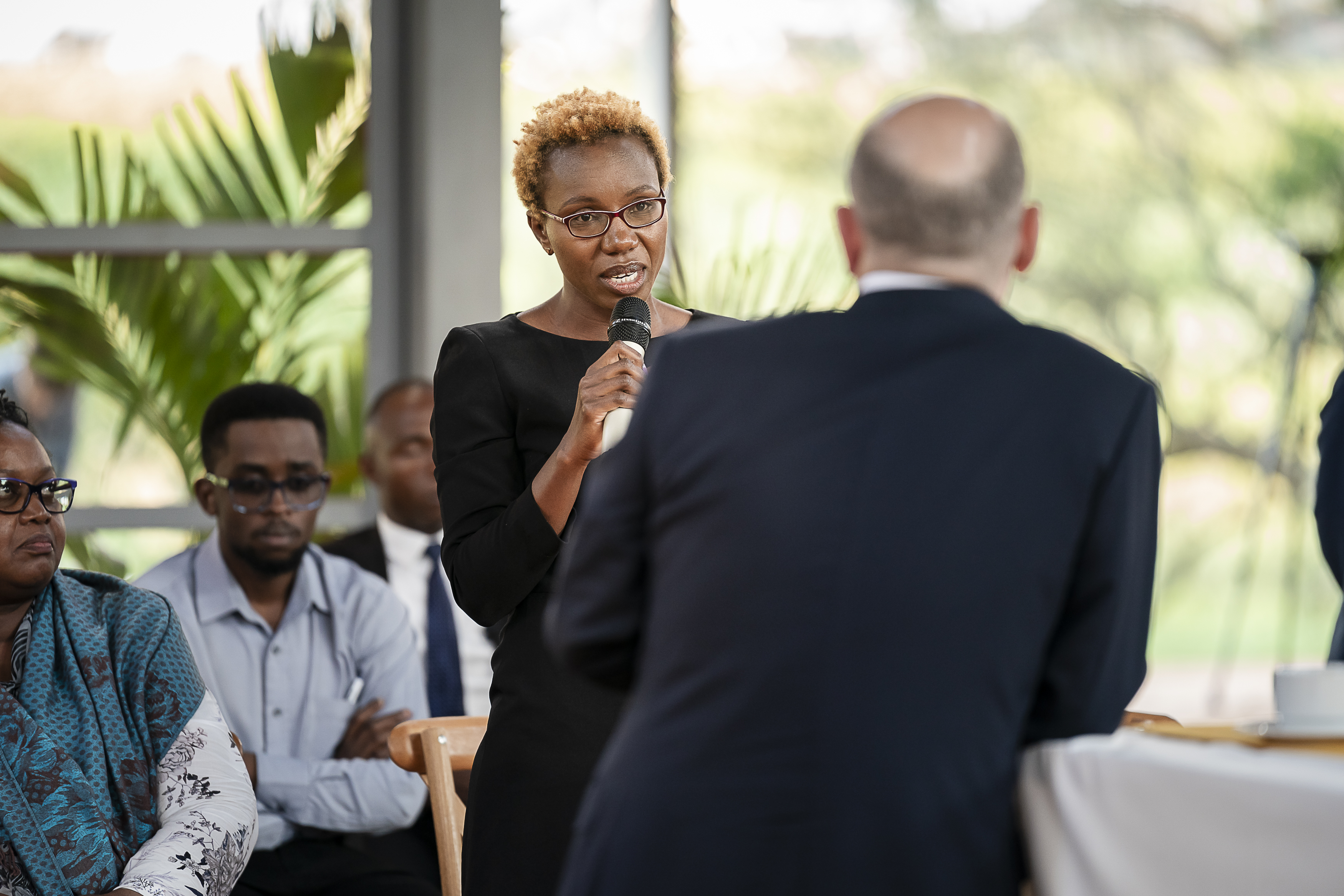 On the 5th of May, the German Embassy in Nairobi hosted a town hall meeting with the German Chancellor, Olaf Scholz. This was one of the activities during his state visit to Kenya. The meeting brought together Kenyan SMEs - with twelve entrepreneurs from the GIZ WIDU project in attendance. The meeting covered a range of crucial topics, including start-up ecosystems in Africa, access to funding and the role of remittances as well as climate/energy, strengthening democracy, and Kenya-Germany cooperation.
WIDU entrepreneurs address German policy makers
"It was a lifetime opportunity," recalls Florence Mogere, who had the opportunity to directly talk to the German Chancellor. "I never thought I would meet him and even have the opportunity to discuss challenges of small businesses in Kenya in particular." Florence participated in WIDU.africa. Her business Nyota Limited is a woman-led food processing company that specialises in frozen vegetables, speciality tomato lines, and pre-cooked Kenyan frozen legumes. Now, she is on the way to develop it into an established food brand. Currently, she employs 15 staff members.
A perfect platform to explore synergies between Germany and Kenya
The discussion was nothing short of enlightening as the participants delved into some of the most pressing issues facing entrepreneurs in Africa today. With a particular focus on policy development, concerns about compliance and regulatory policies, favorable immigration laws, access to German markets, and funding for SMEs, the event provided a perfect platform for knowledge exchange, networking, and exploration of areas of synergy. The diverse backgrounds and experiences of the participants added depth to the conversation, and there was a shared commitment to finding solutions that would drive sustainable economic growth on the continent.
"Overall, from the lenses of our entrepreneurs the town hall meeting was a huge success"

Fridah Kibuko - WIDU.africa Coordinator in Kenya
The dialogue revolved around building a sustainable ecosystem for start-ups in Africa and promoting knowledge transfer. The presence of Chancellor Olaf Scholz further emphasized the importance of cooperation between Kenya and Germany. Fridah Kibuko, coordinator of WIDU Kenya summarizes: "Overall, from the lenses of our entrepreneurs the town hall meeting was a huge success, and we look forward to seeing tangible outcomes in the near future."