Speaking One on One With The German Chancellor Olaf Scholz
Interview with WIDU Entrepreneurs Florence Mogere And Kevin Sanya
When German Chancellor Olaf Scholz visited Kenya's capital Nairobi on 5 May 2023 as part of his state visit, Florence Mogere and Kevin Sanya had the opportunity to participate in an event that was organized by the German embassy in Nairobi. They were two of only a few people from the audience who had the opportunity to directly talk to Mr Scholz. Florence owns and runs the food processing business Nyota Limited. Kevin, too, is an entrepreneur who runs and owns the barber shop KG Barbers and a wellness Salon, KG Styles Salon, in Nairobi. Both participated in WIDU.africa.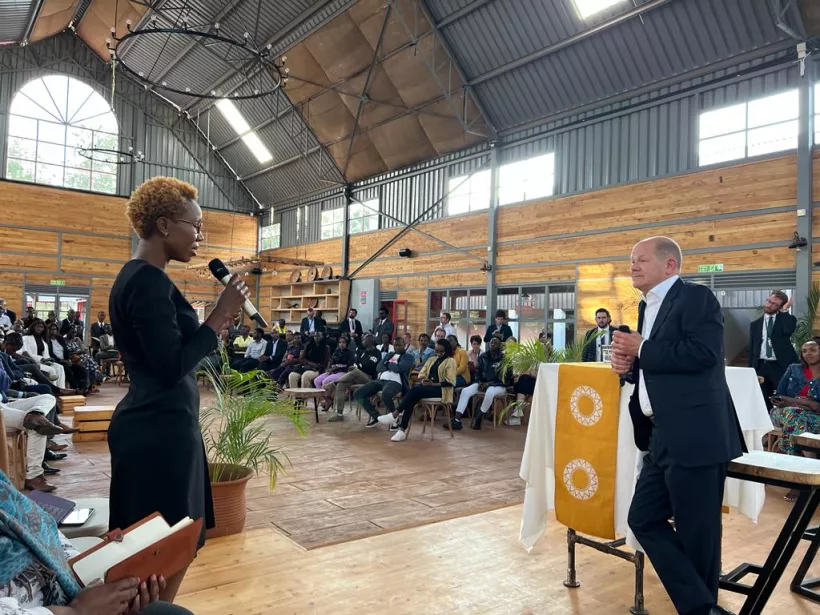 We met Florence and  Kevin online to hear how they experienced the day. They told us about their questions and how the German Chancellor replied as well as about uncomfortable stools and cold coffee.
Interviewer: I can imagine that it was quite a surprise to learn that you would be meeting Olaf Scholz. How did you find out that he was going to be at the event? And what was your reaction?
Kevin: I received an e-mail invitation by GIZ and read that it was about a German Embassy event. My immediate thought was: "This can't be real" and I therefore didn't take the e-mail too seriously. Two days before the event – Fridah Kibuko, who is WIDU Kenya's coordinator, called me and confirmed that, yes, it is true, GIZ invited me to a Town Hall Meeting. Instinct drove me to read the full e-mail. All this time I thought it was the Ambassador who will host the event but then I realized: OH NO it's the Chancellor of Germany. This is massive!
Florence: I share the same experience. I clicked on the sender – it was a name I couldn't pronounce – and I thought: It must be a conman. I didn't read further than the first line. A couple of days later I received a Whatsapp message. As I was sitting together with my husband, I told him about the e-mail and my suspicion it was send by a conman. He asked me to read the Whatsapp message as well and went like "My goodness, I don't think it's a conman. This is the chancellor of Germany." And I was like: "WHAT?"
"I thought to myself: In the event I will get a chance - I will ask, but if I don't, I will just be happy to be here."

Kevin Sanya, KG Barbers
How to Prepare For a Meeting With Olaf Scholz
Interviewer: Oh, wow - so that really was a huge surprise. What happened next? Did you prepare for the event?
Kevin: I didn't really prepare as such. I thought it was a normal Town Hall. To me it was clear that I will represent the support I received from the German government through WIDU. We've been supported by WIDU now for two years and I know their processes. I was ready to speak along these lines. But when I got there, I realized, ok, this is not only about business. It was also about social reform and supporting the political landscape of the country, philanthropy, education. I realized: It's a big conversation! I had an appreciation for Germany's work and a question in mind, you know, just in case I get the opportunity. But there were so many people, more important people than me, economic planners and so on. So, I thought to myself: In the event I will get a chance - I will ask, but if I don't, I just be happy to be here.
Florence: So for me – I received a call from Fridah and she touched base on what to expect. I, just like Kevin, thought if I was to get the opportunity, I will appreciate the work that GIZ is doing in the country and ask a question. The audience was really diverse. There were entertainers, academia, entrepreneurship. But from the people who spoke and ask questions in that forum I was the only person from agriculture. My question was therefore a bit more specific and addressing the agricultural sector.
About Uncomfortable Stools And Cups of Coffee 
Interviewer: And then he suddenly stood in front of you. What was that like? Was Olaf Scholz different from what you expected? Or not at all?
Kevin (searches for words): I think I expected a strict man, a military physique even. And then – as he walks in – he was just a normal guy. And we were wondering: Is this the wrong person? (Both laugh) In fact, I realized that the Chancellor was to sit on an uncomfortable looking stool, so I asked the person I was sitting next to: "Is that the stool the Chancellor will sit on?" So, yes, at first, I was a bit tense, but when he walked in, sat down and took a sip of his coffee, I realized that he is just a normal person. He sat on that uncomfortable stool, but got up later and walked around. When we had our conversation, he looked towards me. And he was smiling all through the event. He really surpassed my expectations.
Florence: Oh yes, I noticed this high, uncomfortable stool, too! But thankfully he spent most of his time walking around in the room interacting with the audience. He really seemed like an easy, down to earth and sociable person. He had a cup of coffee in the beginning, and he continued to drink it even after spending some time with speaking to other young people. I can imagine his coffee was already cold, but he continued drinking his coffee, no complaints whatsoever. That was really impressing. And he also came across as a keen listener.
"He told me that he came with his trade delegation and he was keen to link me up with them."

Florence Mogere, Nyota Limited
 Florence And Kevins Questions For Olaf Scholz: Continued Support For Kenyan SME's
Interviewer: Let's get to the hightlight of our interview: What did you ask him? And what was his response?
Kevin: I was the fifth person to be picked to ask a question. My voice was shaking! For those people who know me; I usually don't shake, but, yes for some reason my voice was shaking.
Florence: Oh! No, Kevin, your voice wasn't shaky – at least I couldn't tell it was!
Kevin: Thank you! Yes, it thankfully stabilized. The first thing I did was to appreciate what the German government does. I told them: 'I am here because I run a barber shop and its… (He pauses for thought) it is not a common thing in this round: People here are talking about science and politics and technology, but I'm here talking about a barber shop.' I continued to tell them: 'I have 12 employees, who are fully paid and they support their families from that. Through the support of GIZ and WIDU I've been running for two years now. Without WIDU I wouldn't have gotten the opportunity to run this business.' And the Chancellors response was - and I quote him now: "I'm actually very happy with the work that WIDU is doing in Kenya and we will look for ways in which we can continuously support them, because clearly from this meeting I can tell their work has a lot of impact".
Interviewer: Incredible, Kevin! Thank you so much! And what question did you ask the chancellor?
Kevin: My question was about the continuation of GIZ projects that support SME's in Kenya. If I recall correctly, I asked Mr Scholz something along the lines of this: Through the funding the German government provides to a lot of entrepreneurs and small businesses in Kenya, they are able to be empowered. So what are the policy plans of the German government to continue grant programs to Kenyan businesses? And once the income of those SME's is consistent, are there plans to also offer loans to them that have minimal interest rates that those small businesses can actually pay back? And I think his response was: Of course as the German government they are keen on supporting businesses in Kenya and Africa so they won't cut the support through grants and they will also think about how they can continuously subsidize interest rates so that people get some experience before they can pay back that loan. I was really excited by that moment: Getting the assurance that the German government will continuously support our businesses through GIZ - that was a wow moment for me.
Interviewer: Florence, what did you ask Mr Scholz?
Florence: I was only star-strucked after the event, not during the event. (She laughs) But yes, I think if I am not wrong, I might have been the only person the Chancellor picked when he was asked whom he want to talk to!
Kevin: Yes, I think so, too!
Florence: Once I got the mic, I introduced myself and my business. I had a quite specific question. It was centered around what we and many other businesses in the agri-value-space do. I spoke to him one on one, direct. I don't exactly remember my question word by word but the gist of it was about the food expos that are held every so often in Germany – I specifically mentioned the Berlin Food Expo. I told the audience that, we as SME's within the agri-value-space are also keen to attend such event to expose our products to the world and the German market. I mentioned that the costs of attending such an event are pretty high and therefore limiting to businesses which can afford it. It is an excess of 10,000 US Dollar, just to get a stand at venue of the food expo. So I asked him: "Mr. Chancellor, what are you doing to support SME access your market in Germany and in particular, I would like to know whether your government has something in place to ensure that SME in Kenya in the agri-value-sector are able to get their products to your markets. His feedback was amazing. Among other things that we talked about, he mentioned that Kenya and Germany are signing trade agreements and that they are really interested in agri-products. He told me that he came with his trade delegation and he was keen to link me up with them. And yes, I went there and got contacts of two people! I'm looking forward to pursue that!
Interviewer: Congratulations! Then we'll keep our fingers crossed that you can actually participate in the Food Expo soon. And that brings us to the end of this interview. Thank you for giving us this insight!
Kevin: I really appreciated this massive opportunity! It was really one of the biggest ever things that I did participate in. Thank you to WIDU, the GIZ and everyone who planned this.
Florence: I, too, want to say thank you for the opportunity that the German government has given to SME's in Kenya. We really appreciate this.
About the entrepreneurs
Kevin Sanya - KG Barbers
Kevin Sanya owns KG Barbers & Salon. "KG Barbers and Salon" is an executive barber, nail, and hair salon business that aims to provide the best services the neighboring communities. We save clients from traveling 20kms to Nairobi to get such executive services," says Kevin. He currently employs 12 people and has participated in WIDU several times. In December 2022 he won two categories of the first WIDU Award Kenya: Best Male Entrepreneur and Best Company Service for "prioritizing service and proving how scalable his business is." https://widu.africa/news/widu-award-kenya
Barbershop: https://web.facebook.com/KGBarbersKE
Salon: https://web.facebook.com/kgstylessalon
Google Pin Location: https://goo.gl/maps/Hycd2v5WQS7mv9my7 
Florence Mogere - Nyota Limited
Florence Mogere runs and owns the company Nyota Limited that is currently offering two brands: Frozen Isle and NTAMU. Her goal is to tackle poor nutrition among the urban population of Kenya by offering healthy food that is also fast and easy to use. Therefore, Nyota Limited blast freezes local produce such as peas and sweet corn and sells it in supermarkets. To do so, they contract local farmers and pay a fair price for their harvest. According to Nyota Limited they are the first Kenyan company to blast freeze their products. Currently, Nyota employs 13 workers. 12 of them a single mothers from the local community.
Website: https://www.nyota.co.ke/ 
Frozen Isle:
NTAMU:  https://instagram.com/ntamukenya?igshid=NTc4MTIwNjQ2YQ==