Outstanding Kenyan entrepreneurs receive WIDU Award Kenya
Award ceremony for Kenyan participants of the GIZ project took place for the first time
The WIDU Award Kenya was held for the first-time on 8 December 2022. Awards were presented in six distinct categories: Digital Enterprise, Green Enterprise, Food Security, Best Male and Female Entrepreneur, Service Enterprise, Best WIDU Coach (m/f) and best Green coach. The winners received cash prizes.

02/01/2023 – On Thursday, the Kenya Diaspora Alliance (KDA) and WIDU.africa awarded the most outstanding Kenyan WIDU participants. In a relaxed atmosphere, ten entrepreneurs and three WIDU coaches received awards and prizes for their work. Some of the awarded businesses are in the circular economy space e.g. making petrol from plastic bags, digitally provide easier access to medical visits or - after participating in WIDU - they were able to increase the number of animals living on their farm a hundredfold and create more sustainable jobs.
"I learned today that we are so innovative in this country - we have so much innovation, don't we? And that's why we're here tonight, to celebrate!"

Dr. Shem Ochuodho, KDA Chairperson
What all winners had in common was that their business ideas were awarded due to their innovation, creation of sustainable jobs and value addition in their investments. The coaches were also awarded for their outstanding performance and service to WIDU entrepreneurs through day-to-day mentorship, referrals/ links to markets and other services geared towards improving their businesses.
Get to know the award winners - we present them below!
The WIDU Award Kenya
The WIDU Award Kenya aimed to showcase how development cooperation can engage the diaspora to support small and micro enterprises and presented inspiring stories of change and business transformation by small entrepreneurs in Kenya. The winners received prize money and marketing advisory for their businesses. 
Watch the WIDU Award ceremony on YouTube: https://www.youtube.com/watch?v=mu4RxDEr5WM&t=4141s
---
The Winners
"I learned today that we are so innovative in this country - we have so much innovation, don't we? And that's why we're here tonight, to celebrate!" said Dr. Shem Ochuodho, KDA Chairperson, delighted with the winners of the WIDU Awards. 
Best Digital Companies
1st place OHospital - Owner: Daniel Kimani
OHospital is an outstanding and revolutionary healthcare platform that ensures medical care is accessible to everyone and allows doctors to attend to their patients - even when they are at home. It allows doctors to effectively manage their patients, providing them the option for virtual visits, online chatting, and prescription management.  In addition, each user is credited with 10 minutes per day to consult with their doctors - free of charge.
https://ohospital.co.ke/  

2nd place Kidawa Entertainment Production - entrepreneur Eunice Kidawa: 
All she needed to kickstart her business was her own camera equipment. Thanks to the support from her diaspora supporter Simon and WIDU, she was able to purchase it. However, she also impressed the WIDU Award Kenya judges with her efforts to encourage young people to learn to act and report.
https://widu.africa/success-story/kidawa-entertainment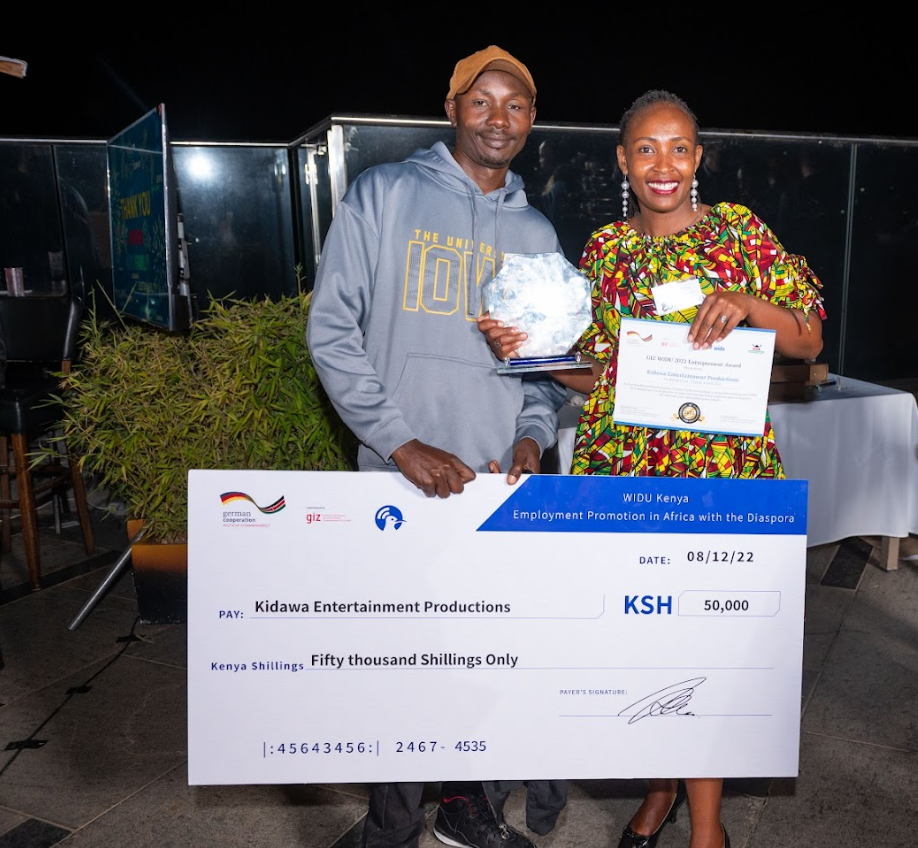 3rd place Tom Marketing Network 
Entrepreneur Tom Komolo says: "It has not always been an easy journey as an entrepreneur and I feel very encouraged that we have been given this opportunity and that the support we have received has enabled us to improve our business and create jobs," said the third-place winner of the Digital Enterprise category and owner of marketing agency Tom Marketing Network, summing up his assessment. 

Best Green Company

1st place Three Cousins Energy: 
3CE recycles plastic waste. To do this, the entrepreneurs use an unusual approach: by means of a chemical process, they break down plastic waste back into its individual parts and earn their money by selling them: carbon, gas and - industrial oil.
https://widu.africa/success-story/three-cousins-energy-3ce

2nd place: Organic Fields Limited. 
The project deals in producing fertilizer from food waste by treating it with microbes and thus improving the composting of the waste. Runner-up Richard Mwangi, who owns Organic Fields Ltd, is delighted: "For me, the award means that we are taking care of our environment, we are taking care of our soil and we are reducing the waste that goes back to landfill and is taken to farms. It's an important day for us, it's a pleasure!"

3rd place Pajalitech 
Located in Ngodhe village, Homabay county in Kenya. The entrepreneur has conducted various high quality electric installations for commercial and residential buildings thus improving access to low-cost clean energy in the rural setting and created 5 jobs.
Best Food Security Company

1st place Pinky Tail Farm - Christine Angoko. 
She has created 10 jobs so far and, despite her success, is very modest: "When I started my farm, I was able to buy 4 animals thanks to WIDU. Now I have more than 400. But what excites me even more are the jobs I have created, which now secure the lives of people in the area, and that we are really encouraging others to start their own pig farms.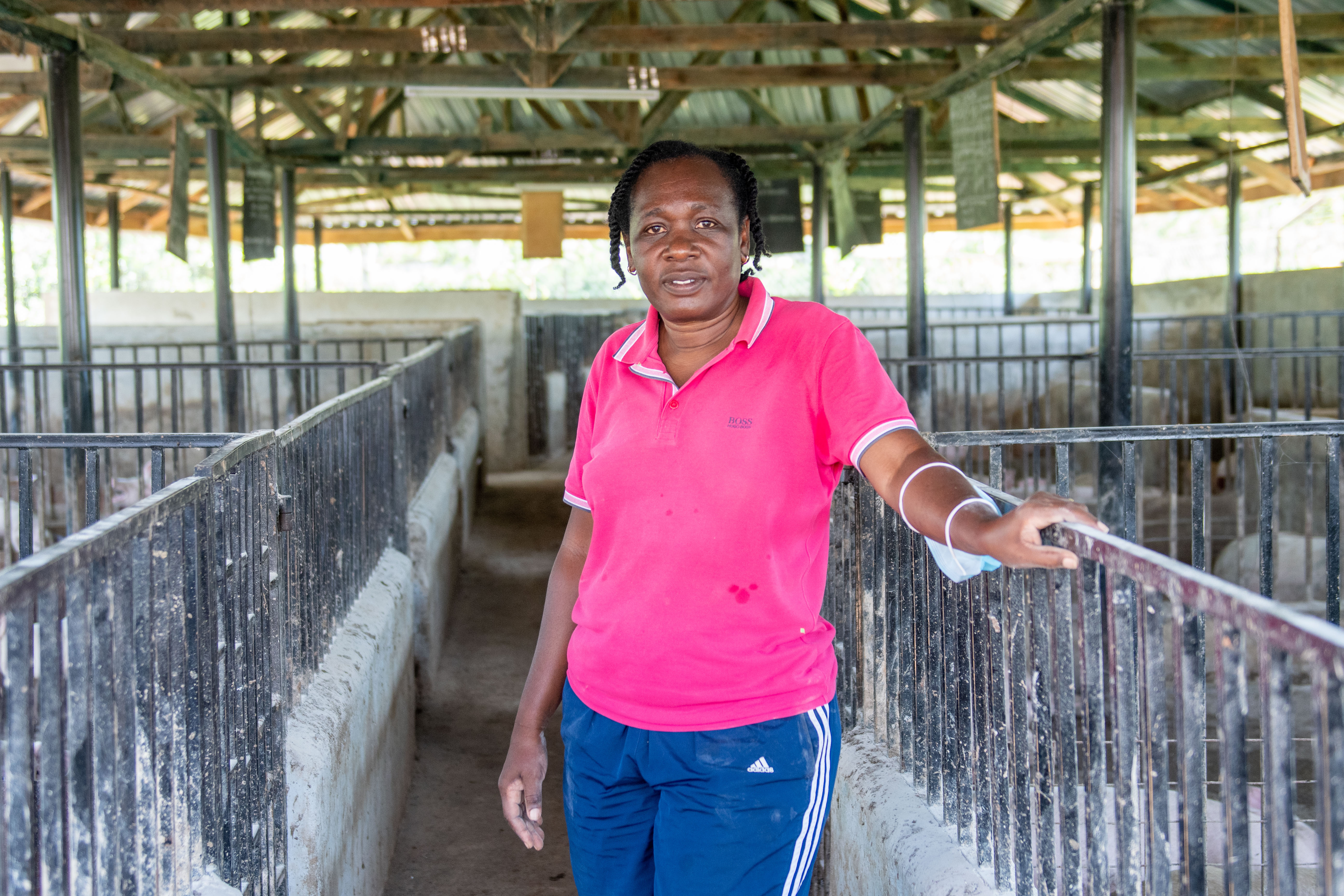 2nd Tony Abanga, Alufly Bees Africa. 
With WIDU'S financial assistance, Tony has upgraded from traditional local hives which involved killing bees to using the standard Langstroth hives and creating value addition in bee keeping by venom extraction for medicinal purposes. Through partnerships with relevant organizations for training and sensitization, he is slowly becoming a giant in the Beekeeping and honey-harvesting field. During the three days during the KDA COnvention, Tony was able to get access to new markets, linkages with government and training opportunities. 

3rd Place Kapkures Farm: 
75–year–old Grace Wanjiru Mites ventured into Kitchen Garden, through WIDU she installed a solar–powered drip irrigation system, making her the biggest vegetable supplier in Kapkures, Nakuru County. She states that since joining WIDU, she can fend for herself without seeking support from her children, she created a savings account and tutors women in her community on table banking.
 
Best Company Service:

KG Styles - Kevin Sanya: 
He recently opened his third spa branch in two years. He received the award for prioritising service and proving how scalable his business is. He says, "I am so overwhelmed. We started the hair salon as a sole proprietorship and with the support of our diaspora supporter and WIDU, we were able to get so much more going. My wife and I now have eight employees and are currently in the process of opening a spa."
2nd Hang-over Ka-Kakwacha Hotel 
Originally Leonard Adundo did not want to work in the hotel sector, but everything changed when his wife passed away. He now remembers her with the name of his hotel and pays tribute to her with his success. Since joining WIDU, he has been able to employ 17 people.
Tiny Totos Daycare 
As a young mother, Mercy Kiunga experienced not having childcare and having to leave her children at home while she went to work. She founded Tiny Toto's Daycare to enable mothers to work. She now even offers overnight care.
https://www.tinytotos.com/ 
Best Female Entrepreneur:
Christine Angoko - Pinky Tails
Best Male Entrepreneur:
KG Barbers Kevin Sanya was so pleased that he promptly offered free appointments to anyone who came into his shops and mentioned WIDU. 
Coaching

Dr. Shem J. Ochuodho, Global Chair Kenya Diaspora Alliance appreciated WIDU's work in an exceptional area "Coaching makes all the difference. I keep saying that of course money is important. What I find most exciting about WIDU is the coaching, which is free. It is the key to success. The coaches teach financial knowledge and bring it to the entrepreneur level."
8 coaches were nominated, and the winners were: Esther Kahuko (female coach), Joshua Kemboi (best male coach) and Joel Onyango (Green Coach). The three were awarded for their exceptional selflessness, expertise and support to entrepreneurs and fellow coaches.
About
Kenya Diaspora Alliance encourages all Diaspora Kenyans and their over 1,000 organizations to contribute to the building of progressive Diaspora programs that can ensure that the estimated 3 million diaspora Kenyans become part and parcel of the social, political, economic and cultural diaspora Kenya fabric of Kenya.

WIDU.africa is a project funded by the German Federal Ministry for Economic Cooperation and Development and implemented by the Deutsche Gesellschaft für Internationale Zusammenarbeit (GIZ) GmbH. In collaboration with the African diaspora in Europe, WIDU applies an innovative approach that combines funding and coaching to strengthen new and existing small businesses in Africa. By providing grants and training opportunities, WIDU aims to create sustainable jobs in Kenya and five other African countries.