2 Jobs created
Regionally Produced Rice, Packed in Handy Portions
Africa Food & Business by Rebecca Gnan
In the bustling city of Lomé, the capital of Togo, 26-year-old T.M. Rebecca Gnan has found her way as an entrepreneur in the food industry. Her company Africa Food & Business packs regionally grown rice from Togo into a handy 1kg portion – a real niche in the Togolese market.
Market niche for 1-kilo bags of regionally produced rice
Back in 2019, T.M. Rebecca Gnan founded her company Africa Food and Business. Her business model is as simple as it is ingenious: she travels from Lomé to villages in the surrounding area of Togo's capital to buy rice from local producers. After the rice has been husked by a partner, she brings it to the capital Lomé, where it is filled into handy 1-kilo bags and is sold afterwards. She has found a market niche with this, because until she launched her product, rice was only available in larger quantities. Month after month, she was able to sell about 200 of these bags. From the beginning, her company thus contributed to supporting local rice producers.
Great potential and the right business idea, but it almost wasn't enough
Rebecca is an ambitious entrepreneur who had a clear vision for Africa Food & Business from the beginning and who also realized that her business idea had potential. But to become competitive, she would have had to scale up her production. For a long time, she had wanted to improve the premises of her business and bring them up to international hygiene standards for food production. However, the husking of rice by partners consumed a lot of money, which she then lacked for the further development of her business. Getting additional money from other sources also is difficult for small business owners like Rebecca, because they often require the ability to cover high interest rates and to provide collaterals to banks. Today she says: "At that time we were on the verge of closing down."
Meanwhile, her acquaintance Kodjo Koudoh from Paris heard about WIDU.africa and realised that Rebecca could benefit from the Original WIDU Grant funding program offered by the Deutsche Gesellschaft für Internationale Zusammenarbeit (GIZ) GmbH project WIDU. "I myself am a young African leader and beneficiary of the Obama Yali programme. I supported Rebecca because I believe that everyone with a good business idea deserves the chance to realise their vision," says Kodjo.
Finally competitive thanks to financial support from France & Germany
Her participation in the Original WIDU Grant enabled Rebecca to secure the financial support she so desperetaly needed.  She strategically invested in a modern production facility that meets current production and hygiene standards, acquired a rice husking machine, procured transport equipment, improved packaging and bolstered her rice stock inventory. "We managed to buy the machinery we needed to build our business. Our production capacity has been doubled and we can finally meet the growing demand of our customers," she says.She currently employs her own husking machine for rice processing in her business. Additionally, through her participation in WIDU business coaching sessions, she gained valuable skills in bookkeeping and business advertisement.  As a result, Africa Food & Business is thriving today. She says: "Our investments have had a positive impact on our business. We are currently competitive in the market." With her growing business, she has already created three new jobs.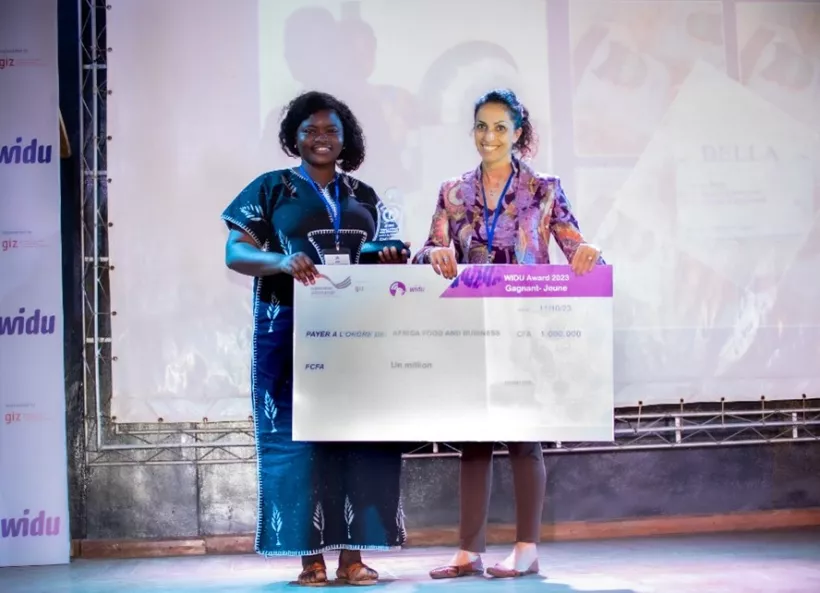 Winner of the WIDU Award Togo in the "Young Entrepreneurs Award" category
For the impressive development of her business, Rebecca won a WIDU Award Togo in the category "Young Entrepreneur Award" in October 2023. She impressed the jury by producing her rice – from harvest to shop shelves – entirely in Togo and because she found a market niche. Thanks to her entrepreneurial commitment she supports local rice producers as well as other companies along the value chain.