3 Jobs created
Heart and soul for her students in Cameroon
QES Extension by Akawaung Nkemngu
On World Teachers' Day on 5 October, WIDU would like to highlight the exceptional work of a passionate teacher, Akawaung Fontem Elizabeth Nkemngu. Akawung, 70, has an educational background from the University of London and a master's degree in education from the University of Southern California. Her career in early childhood education is as impressive as the depth of experience she has gained since then.
From education inspector to school founder: a new career start at 70
She is a teacher by passion, driven by the desire to provide children in her home country Cameroon with good schooling. For her own education, Akawaung even moved to England and the USA. Ever since her return to Cameroon, she has been working to fulfil her wish - first as a national education inspector and then as a school founder: "My career as a national education inspector for preschools was always very fulfilling. And yet I wanted to try something different professionally: So, I founded two new schools in my home region." She decided to put her high office to rest and to embark on a new chapter. Actions promptly followed her words, leading to the establishment of the Defang School in Tiko and the Queen Elizabeth School in Buea in 2013. Both places are about two hours' drive from Douala, Cameroon's largest city.
A school start with a heavy blow
In 2016, the Anglophone crisis swept through the region, impacting not only the community but also the school director. The disruptions caused by civil unrest, including teacher strikes, significantly affected her activities. Akawaung was first forced to reduce school hours but ultimately had to close the school entirely.
Nonetheless, she persisted and remained committed to her vision. Once she was able to resume all teaching activities in 2020, the demand for education surged. However, a new hurdle emerged: "We required additional classrooms and teachers to cater to the escalating demand. Regrettably, I lacked the financial resources. I couldn't even afford to repair our deteriorating roofs," she recollects. Time was of the essence: "Many children had already returned to school, and as the new school year approached in September, the numbers would increase further. Building more classrooms to accommodate the growing student population was paramount. Yet, we needed assistance to achieve this."
Support from the daughter for WIDU funding
Once again, Akawaung demonstrated resilience and found help from her daughter Christine, who lives in Germany. Friends told Christine about WIDU.africa, and she recognized the potential for a successful reopening of the elementary schools in the Original WIDU Grant instrument: "Both of my parents are retired and founded these schools to sustain themselves. Participating in WIDU was the best way to help them fulfill their dreams."
Thanks to the support from WIDU, Akawaung was able to set up her new classrooms. She now employs new teachers and has increased the admission capacity of her school. As part of her participation in WIDU, she received free business coaching in marketing strategy and financial management. Today, her schools continue to grow, providing high-quality education to the children in the region.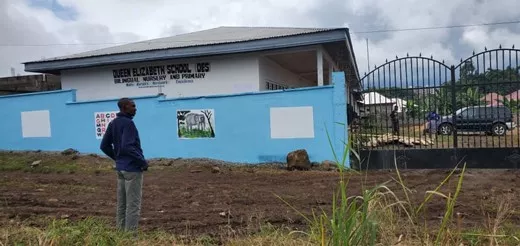 Celebrating World Teachers' Day 2023
Akawaung stands as a representative of the numerous educators globally who, with resolve and passion, pave the way for a brighter future for children and young people. WIDU takes pride in supporting visionary entrepreneurs like her on their educational journey. "Investing in education is an investment in society's future," emphasizes Akawaung, highlighting the positive influence that WIDU has had on her school and her enduring dedication to education. Through WIDU, 180 new students and three additional teachers newly joined the founder's institution. With a sheltered classroom and new furniture, a successful start to an instructive school year is now well within reach.
"The help provided moved a project that was otherwise stalking".
"Both of my parents are retired and founded these schools to sustain themselves. Participating in WIDU was the best way to help them fulfill their dreams."