WIDU Kenya Facilitated ToT Workshop for Business Coaches
On the 10th of August 2023, WIDU Kenya hosted a Training of Trainers (ToT) Workshop for WIDU Business Coaches. The aim of this refresher training was to deepen cross-organisational collaboration. Highlight was a joint session on integrity in business and entrepreneurship facilitated by Transparency International and GIZ Good Governance.
A key component of WIDU's strategy for fostering entrepreneur support, in addition to financial assistance, is business coaching. In a significant stride towards nurturing entrepreneurship and fostering business growth, WIDU Kenya had a transformative refresher training for its esteemed coaches. This three-day event, held at the Lukenya Getaway, unfolded from the 1st to the 3rd of August, 2023. Fridah Kibuko, WIDU Country Coordinator in Kenya puts the atmosphere during the training into words: "The enthusiasm and commitment displayed by everyone involved reaffirm our dedication to fostering a supportive and empowering entrepreneurial community."
Empowering Entrepreneurs Through Expertise
A total of 13 coaches representing various member Entrepreneur Support Organizations( ESOs) engaged in the WIDU project, including Sustainable Business Consulting (SBC), EldoHub, and Ongoza, converged to share insights, exchange experiences, and gain fresh perspectives. Notably, the Association of Startup and SMEs Enablers of Kenya (ASSEK) was also an active participant, adding their invaluable presence to the event.
Collaboration for Success
"The primary aim of this invigorating workshop was to cultivate an interactive and physical platform that enabled the WIDU coaches to synergize with both the WIDU Team and the coaching coordination team.", summarizes Eva Okot, who works for WIDU and was in charge of organizing the training. The workshop's objectives were multifaceted, including the development of innovative approaches, the enhancement of skills and knowledge, sharing of invaluable experiences, and fostering deeper collaboration. A notable emphasis was placed on integrating lessons learned into the project's processes to create a more impactful environment for entrepreneurs.
Integrity in Business: A Joint Endeavor
Key highlights of the event included a joint session on integrity in business and entrepreneurship, presented by Transparency International together with GIZ Good Governance. This session provided a comprehensive understanding of ethics in business advisory operations. Coaches were taken through integrity from a holistic perspective, anchored within the context of Kenyan policy and legal frameworks. The session aimed to complement WIDU's code of conduct for the coaches and make them aware of consequences of abuse of power of their privildged position to support entrepreneurs achieve sustainable businesses. It was not all theory but included practical ways coaches can instill a culture of business compliance to WIDU beneficiaries. The session also served as a good example of cross-project and inter-cluster synergies, showcasing the profound power of collaborative efforts.
Other substantative sessions included a discussion of WIDU's Theory of Change. By looking through the project numbers, the training audience was provoked to think beyond output numbers such as number of coaching sessions, amount of grant disbursed. Instead, the emphasis should be on quality of jobs created, long-lasting income change and outcomes intricately tied to advancements in gender empowerment.
Peer learning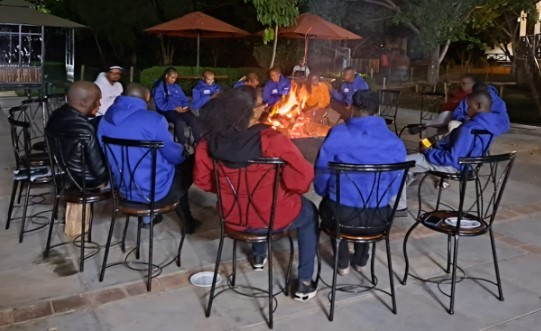 The training's design included many opportunities for coaches to exchange their experiences, learn how they were navigating difficult situations, how some were moving their projects quickly and best practices in reporting. For example, Sylvia Mwaura from Ongoza was lauded for having the best reporting tool. She shared the template with the other coaches and explained how as Ongoza ESO they had experienced challenges to follow through entrepreneurs they had coached. By designing a simplified reporting template, it made it easier for reference and building up experience in consecutive coaching sessions.
Simon Nyamweya shared how he had created a WhatsApp group for all his entrepreneurs and used it to follow up the progress of projects. He explained that through this tool entrepreneurs were learning from each other, celebrating those who got the grants and used it as an opportunity to learn of more business opportunities within their locality.
These experiences continued throughout the 2.5 days in the restaurant, around the bonfire and during evening hikes further bonding the team and ensuring this collective learning is fed back to the overall objective of capacity building for the entrepreneurs, promoting entrepreneurship and focusing on quality outcomes. This event marked a milestone in the journey of WIDU, reinforcing its commitment to nurturing entrepreneurship and fostering sustainable business growth. The echoes of collaboration, shared experiences, and ethical excellence will undoubtedly continue to reverberate throughout the entrepreneurial ecosystem, leaving an indelible mark on Kenya's business landscape.