Healthy For People And The Environment – A Catfish Aquaculture in Ghana
Luxury Farms
Ebenezer Paul Mensah's employees look carefully into one of the many fish pools on the premises of Luxury Farms. Fingerlings, more precisely catfish, swim in it. Ebenezer, the owner of the aquaculture, watches the two men feeding the animals. He farms fish here, in the middle of the Ghanaian city of Kumasi, a good 30 km from the nearest lake. And quite successfully, too. He grabs a landing net and fishes an animal about the size of an arm out of a water tank: "We sell the catfish by weight. This one weighs about 4 kg - I get an estimated 200 Ghanaian Cedis for it."
After graduating from Kumasi Technical University, Ebenezer started his company Luxury Farms in 2019 at just 21 years old. From the start, he had a vision: "We want to grow into a mega farm with a processing plant and create numerous jobs and opportunities for our city."
The challenge: how to finance the dream of owning his own business?
At first, however, he faced an almost insurmountable challenge that affects not only him but also many other small businesses in African countries like Ghana: he needed money, because to grow his business he needed more fish tanks, equipment and, most importantly, animals. But to get a loan from a bank, he would have had to prove collateral, which he did not yet have as a new entrepreneur, and at the same time be able to pay back costly interest rates to the bank.
Support from Germany
A way out came when Ebenezer's friend Emmanuel from Germany heard about WIDU.africa through friends. "I strongly believe in entrepreneurship and that entrepreneurial initiatives can help Ghana overcome challenges. That is why I suggested my friend to participate. His business idea convinced me," says Emmanuel.
WIDU.africa, a project of the Deutsche Gesellschaft für Internationale Zusammenarbeit (GIZ) GmbH, offers members of the African diaspora in Europe the opportunity to use their money to support business ideas of friends and relatives in six African countries. Successful entrepreneurs have the chance to receive a financial grant from the GIZ project in addition to the remittance from their diaspora donors. Entrepreneurs also receive free business coaching. The name of the support programme Ebenezer and Emmanuel applied for is Original WIDU Grant.
Three times WIDU for the future of Luxury Farms
Ebenezer was one of those successful businesses – he received the WIDU funding. With the help of his and Emmanuel's private investment and the WIDU Grant, he was able to have two new water tanks built, buy fish and improve the water supply to the tanks. He was also able to create two new jobs. SME's like Luxury Farms can apply up to three times for the Original WIDU Grant. An opportunity Ebenezer seized. He has since completed his third WIDU project and is one step closer to his dream of a mega-farm.
The best young entrepreneur out of more than 4000 Ghanaian WIDU participants
With his catfish aquaculture, the young entrepreneur solves a global challenge for the people of Kumasi: His catfish is nutritious and farmed in an environmentally friendly way. His farm therefore ensures that his fellow citizens are supplied with healthy, sustainable fish. For this reason, Luxury Farms was one of the winners of the WIDU Ghana Awards 2023 – Ebenezer was awarded the Young Entrepreneur Award in June. "He has made significant advances in the field of organic catfish farming – in a world where the pursuit of nutrious and organic food production has gained traction," said Executive Director of the Ghana Entrepreneurship Agency (GEA) Kosi Yankey-Ayeh, explaining the judges' choice. Asked for his opinion on WIDU, he said at the award ceremony, "Every time I see GIZ and WIDU, I am very happy. Everything you can see in the photos behind me was funded by them."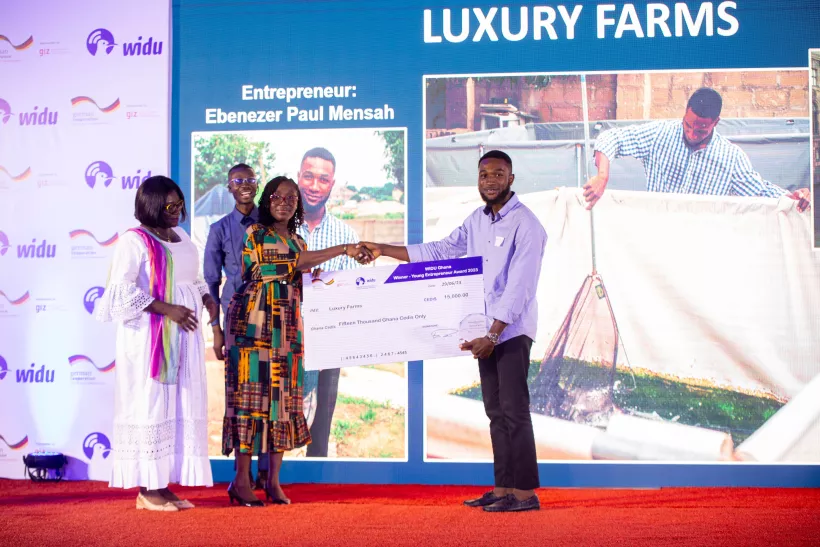 "With Luxury Farms I want to bridge the catfish shortage gap as well as create employment for the youth."
"I strongly believe in entrepreneurship and that entrepreneurial initiatives can help Ghana overcome challenges."

2 Jobs Created