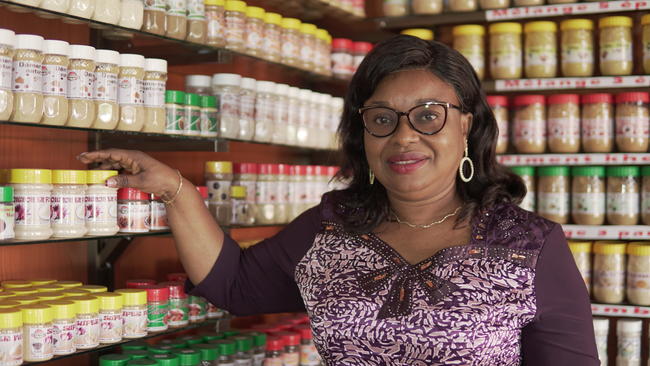 Created Jobs: 2
WIDU grant enables expansion of spice production
PHILAB by Ablavi Anika
In Ablavi's shop in Lomé, the capital of Togo, the air is filled with the intense aroma of spices and herbs. Vibrantly colored containers in red, green, and yellow adorn the walls of her store. In these containers, you can find dried garlic, ginger, cinnamon, turmeric, pepper, black cumin, and parsley. Ablavi, the 58-year-old entrepreneur and founder of PHILAB, makes her living by producing spice blends. She dries, grinds, packages her products, and then sells them. Ablavi is highly successful in this endeavor, as not only in Togo but also abroad, numerous supermarket chains, restaurants, and hotels now rely on the founder's spice blends.
Only high-quality spices make it into the product range
In 2017, Ablavi turned her vision into reality and founded PHILAB. "My motto is: Cooking can be simple and creative when you always have a good spice at hand," To live up to this promise, Ablavi processes the products in her store's kitchen according to the highest quality standards. She carefully inspects and sorts the purchased spices, meticulously removing impurities from the final product with precision. Anything that doesn't meet the required quality is ground into a fine powder. This process explains Ablavi's success and why so many dishes in Lomé are enhanced with her spices.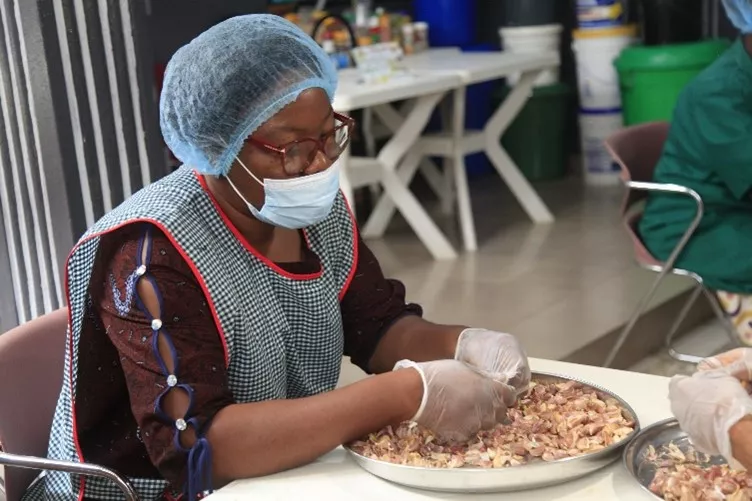 Breakthrough thanks to financial support from Germany
PHILAB is a clear example that business models don't need to be complicated to function very well. Nevertheless, every business start-up is a challenging endeavor, especially when aiming for the highest quality, as in Ablavi's case. To earn enough from her spices and meet the growing demand, Ablavi had to find ways to produce more spices. However, she lacked the financial resources necessary for the required investments.
At the right moment, her brother Yao Anika, who lives in Germany, learned about WIDU.africa. Convinced of the idea of becoming her diaspora donor, he invited his sister to participate in the Original WIDU Grant program: "My motivation was to support my sister in creating jobs in Togo." With her participation, Ablavi received a private investment from her brother and the WIDU grant. She used this money to purchase machinery and packaging for her products. She says, "The investments allowed me to increase my production capacity." Finally, she could respond to the demand for her product.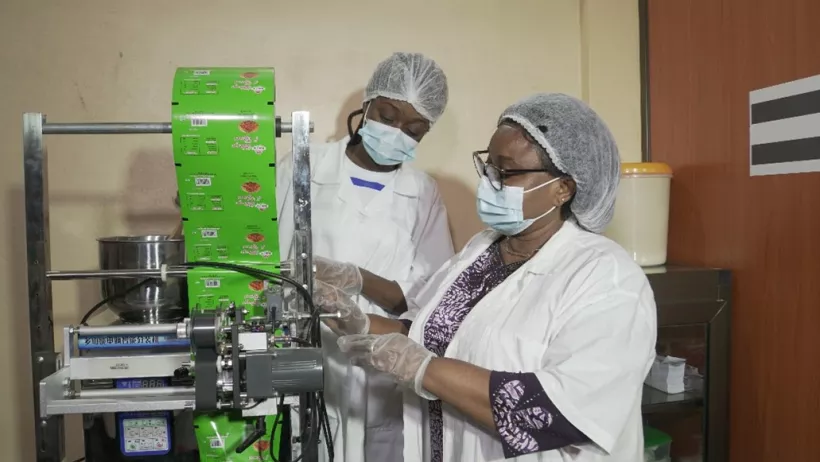 Expanding international customers with WIDU coaching
Additionally, she benefited from coaching that helped her further develop and future-proof her business model. Ablavi's coach describes her entrepreneurial skills as follows: "She works with great care, which puts the project on a good path and makes it grow. In addition, she is determined to showcase her products in supermarkets in France." Thanks to the WIDU grant, PHILAB could establish itself and grow sustainably. This is also reflected in Ablavi's ability to create two new jobs.
Winner of the WIDU Award Togo in the "Agribusiness" category
For the impressive development of her business, Ablavi won a WIDU Award Togo in the "Agribusiness" category in October 2023. She impressed the jury with her project for producing natural spices, elegantly packaged in appealing containers. Thanks to her entrepreneurial dedication, she managed to bring a high-quality alternative to conventional spice products into the stores in Togo, thus enhancing every cooking experience."
"My motto is: Cooking can be simple and creative when you always have a good spice at hand."
"My motivation was to support my sister with creating jobs in Togo"