Created jobs: 18
Beekeeping in Ghana is His Vocation, But Teaching Remains His Passion
Alpha Apiaries
"Proper preparation prevents poor performance, yes, that is my motto," professes Ghanaian entrepreneur Enoch Kwalma Dzadzra. He is a lanky man who is about 60, seems a bit reserved and yet has the charisma of a teacher. This is no coincidence: before he started his career as a beekeeper, the Ghanaian from the Volta region was actually a teacher. And even now, as a self-employed person with his own company Alpha Apiaries, he remains true to his old profession to a certain extent, because he not only produces honey and lives from its sale. He has also founded a beekeeping resource centre in his hometown of Tsibu because he wants to introduce young people to beekeeping as a profitable profession. 
Enoch's path from teacher to beekeeper
However, it took him some time to reach this point. Two countries, a family member and a project of the Deutsche Gesellschaft für Internationale Zusammenarbeit (GIZ) GmbH played important roles: Great Britain, Germany, his brother Paul Dzadzra and WIDU.africa. Enoch has to laugh when he is asked how it actually came about that he left the safe profession of teacher to become a beekeeper. He reveals: "At least the first contact with beekeeping was not entirely voluntary." He says his school at the time was advised by a representative of the University of Edinburgh to start a beekeeping business. "Yes, and I wasn't there that day and all my colleagues were like 'Bees? They're dangerous. Enoch can't disagree, why don't we let him do it?' and that's how I got the honour." 
Luck at second sight
In the end, however, this circumstance proved to be a stroke of luck for Enoch: the venerable university of the Scottish capital had made it its mission to support the conservation and propagation of the honey bee, to promote research into bees and bee products, and to improve the knowledge and understanding of bees and beekeeping by founding the "Apiary Project" in 2008. Enoch was given the chance to travel to Scotland and learn not only the basics of his craft, but also how to manage the insects in a sustainable, environmentally conscious way. 
"In bee keeping we say: Proper preparation prevents poor performance"

Entrepreneur Enoch Kwalma Dzadzra, Alpha Apiaries
On the road to profitability
In setting up Alpha Apiaries, Enoch's guiding motto came into play again: "Proper preparation prevents poor performance". He proceeded systematically and purposefully: "The first thing was to build the hives. These have to be built, laid out with bait and set up." But it quickly became clear: to make a profit, he would need more hives. Fortunately, his younger brother Paul Dzadzra, who lives in Germany, knew WIDU.africa and invited the new entrepreneur to participate in the Original WIDU Grant support programme: "I am ambitious, work hard and like to help. I care about the youth in Ghana and by supporting my brother with his beekeeping business, I am helping those who are not so fortunate. We want to create sustainable jobs that enable the youth to build their own lives." 
"Honey is nature's golden gift" - this proverb describes Alpha Apiaries well. The farm contributes to environmental protection and biodiversity and serves as a resource centre where young people receive beekeeping training and other support services. And what a success story it is: over 20 young men and women from Tsibu have found jobs there. In addition, the company planted trees and established over 5 hectares of teak in the Tsibu community to support environmental conservation – a significant social and environmental impact for Enochs community. 
Environmental excellence at the WIDU Award Ghana 2023
These were precisely the points underlined by Cynthia Attuquayefio, Laudator and Director of the Diaspora Affairs Department at the Ministry of Foreign Affairs and Regional Integration of Ghana, when she presented the WIDU Sustainability Award 2023 to Alpha Apiaries. She highlighted the job creation for 20 young men and women, as well as the biodiversity and social factor of Enoch's beekeeping. The award winner himself highlighted two important points in his acceptance speech at the award show: his brother in Germany, whom he described as a "remote co-manager". And his training trip to Scotland.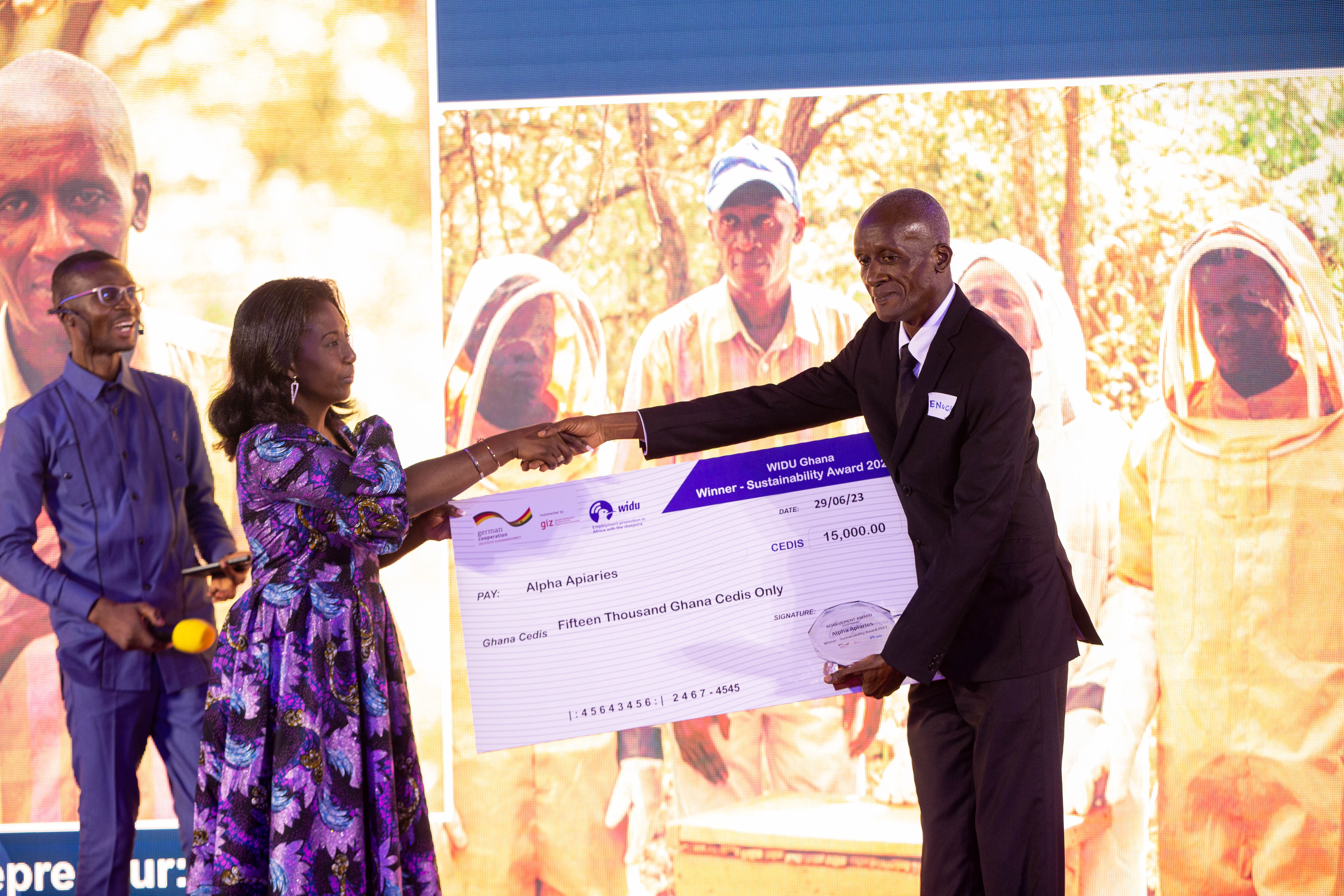 "We now produce custom made honey with the label of Alpha Apiaries. This is a new source of income for locals from the area."
"My Goal is to Help my bother who is an Agric Officer to set up a beekeeping Farm to provide employment to few Youths in the village and also produce healthy honey for sale."